Regular price
Rs. 1,090.00
Sale price
Rs. 690.00
Unit price
per
Sale
Sold out
Anti-Aging Rejuvenating Ayurvedic Cream provides all the benefits associated with Mukhalepam. With totally natural and Ayurvedic ingredients like Shata Dhauta Ghrita (100 times washed clarified butter), herbal extracts like Mandukparni (Centella Asiatica), Chobchini(Smilax Glabra), Barley and Cucumber Ext. and essential oils like Lavender, Calendula, Argan and Red Raspberry. Traditional Mukhalepam (herbal face pack) can now be substituted with Alyuva's Anti-Aging unique natural skin care cream created with the science of Ayurveda. The cream is enriched with Vitamin E which is a strong antioxidant. The result is an Ayurvedic Anti-Aging Cream, which penetrates through the seven layers of the skin; revitalizes and rejuvenates the skin to make you feel and look younger.
Ingredients:
Mandukaparni


Mandukaparni has potent antioxidant properties and is a rich source of amino acids, and is a good hydrating ingredient to soothe compromised skin. It is used for healing wounds, reducing scars and superficial as well as deep wrinkles, firming up the skin.

Lavender Essential Oil


Lavender oil is a potent source of antioxidants and other beneficial phytochemicals that fight free radical damage – caused by environmental stressors like the sun and pollution and thus this wonderful oil can help protect against wrinkles, fine lines and dark age spots. It also provides your skin with a younger and glowing complexion.

Red Raspberry Seed Oil


Raspberry Seed Oil contains high levels of vitamin E which is a potent antioxidant that reduces free radicals that cause premature aging. Combined with the regenerative powers of vitamin A, phytosterols and ellagic acid, this beauty oil can reduce collagen destruction, renew skin and keep your skin looking bright and youthful. Raspberry seed oil's SPF (Sun Protection Factor) is rated at a value of 28-50 for UVB Rays and 6-7.5 for UVA Rays and thus it provides protection against skin cancer and pre-mature aging of skin.

Cucumber Seed Oil


This oil is rich in linoleic acid, Vitamin E, and other nutrients and is an excellent anti-aging agent, keeping the skin's protective barrier strong and improving firmness and elasticity. Both antibacterial and anti-inflammatory, this versatile oil diminishes signs of aging while promoting cell regeneration.
Salient Features:
Based on the ancient Ayurvedic recipe of Shata Dhauta Ghrita (100 times washed cow's Clarified Butter).
Penetrates deep to the seventh layer of the skin without clogging the pores; moisturises, nourishes & rejuvenates the skin from deep within.
Prevents premature ageing signs like wrinkles, age lines and sagging skin and makes you feel & look younger.
Chemical free, Paraben free, Alcohol free, 100% Vegetarian, made from Natural & Herbal ingredients; this cream sits lightly on the skin without leaving any oily feeling.
Suitable for application both during day & night for men and women of all ages.
Key Benefits:
Tightens, firms, brightens and protects your skin
Enriched with Vitamin E, it acts as a strong antioxidant
Penetrates through the 7 layers of the skin to keep it hydrated and moisturised
It heals, revitalizes and rejuvenates the skin to reduce wrinkles and age lines
How To Use:
Take a small amount of the cream on your palm
Apply on your face and neck
Massage with upward circular motions
For best results, apply twice a day: after a fresh shower and at night before going to bed
Precautions:
For external use only;
Perform allergy test before application;
Don't apply too close to the eyes;
Stop use if signs of irritation appear.
FAQs:
Will 100 Times Washed Ghee leave my skin oily and blotchy?
100 Times Washed Ghee is a result of an ancient ritual of washing desi cow ghee 100 times with purified water in a copper vessel, that removes its impurities as well as the excess fat. Hence, it does not clog pores or leave any oily feeling on the skin.
Will Anti-Aging Rejuvenating Cream work for men too?
Yes, Alyuva skin care creams and lotions are unisex in nature i.e. they can be used by anyone, irrespective of the
What is the right time to apply the cream? Can I apply it during the day?
The ideal time to apply the Anti-Aging Rejuvenating Cream is at night before going to bed, after washing your face. However, you can also apply it during the day as the cream also provides protection against sunlight.
After how many days my skin will show improvement?
This depends in general on the skin type, the age and the condition of the skin. Fine lines are reduced and the skin is moisturized and smoothened within 20-25 days. However, for the cream to work to its full potential, you should apply it regularly.
Share
View full details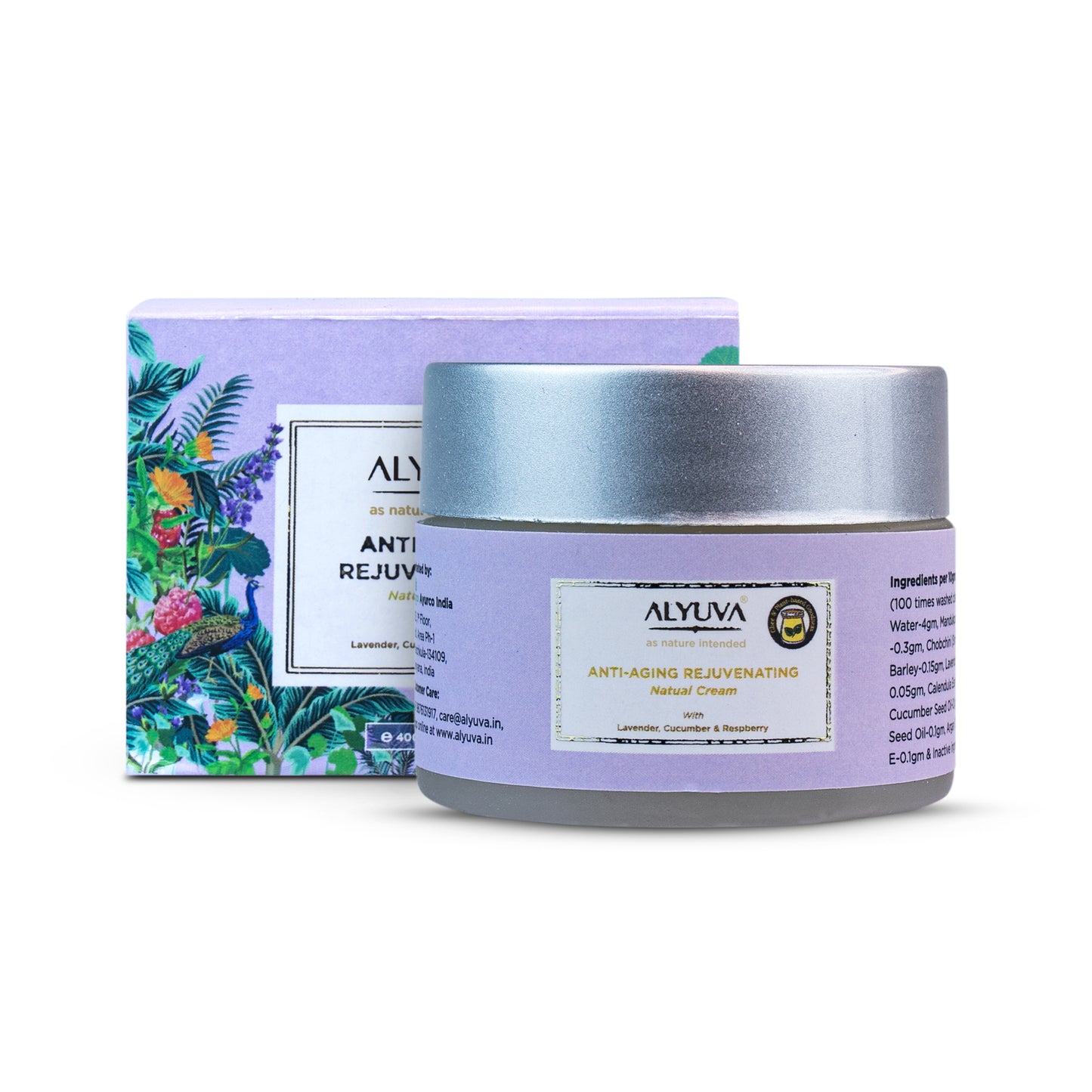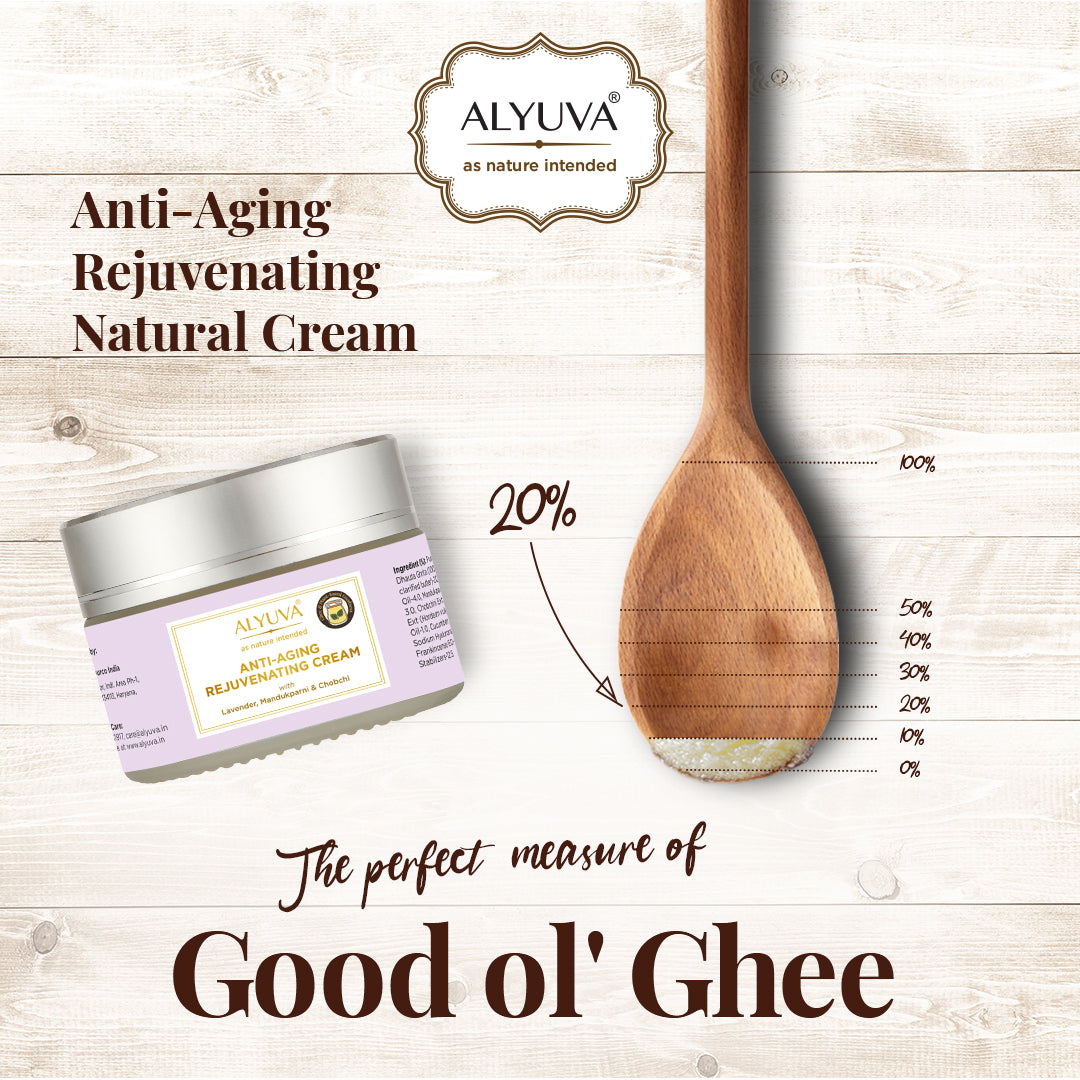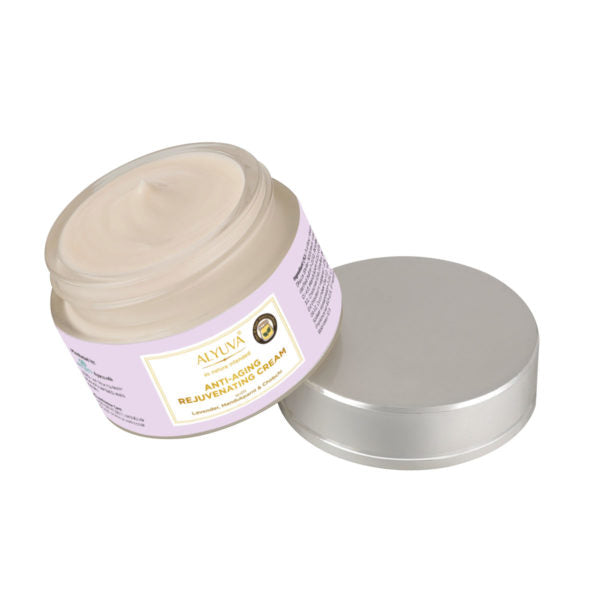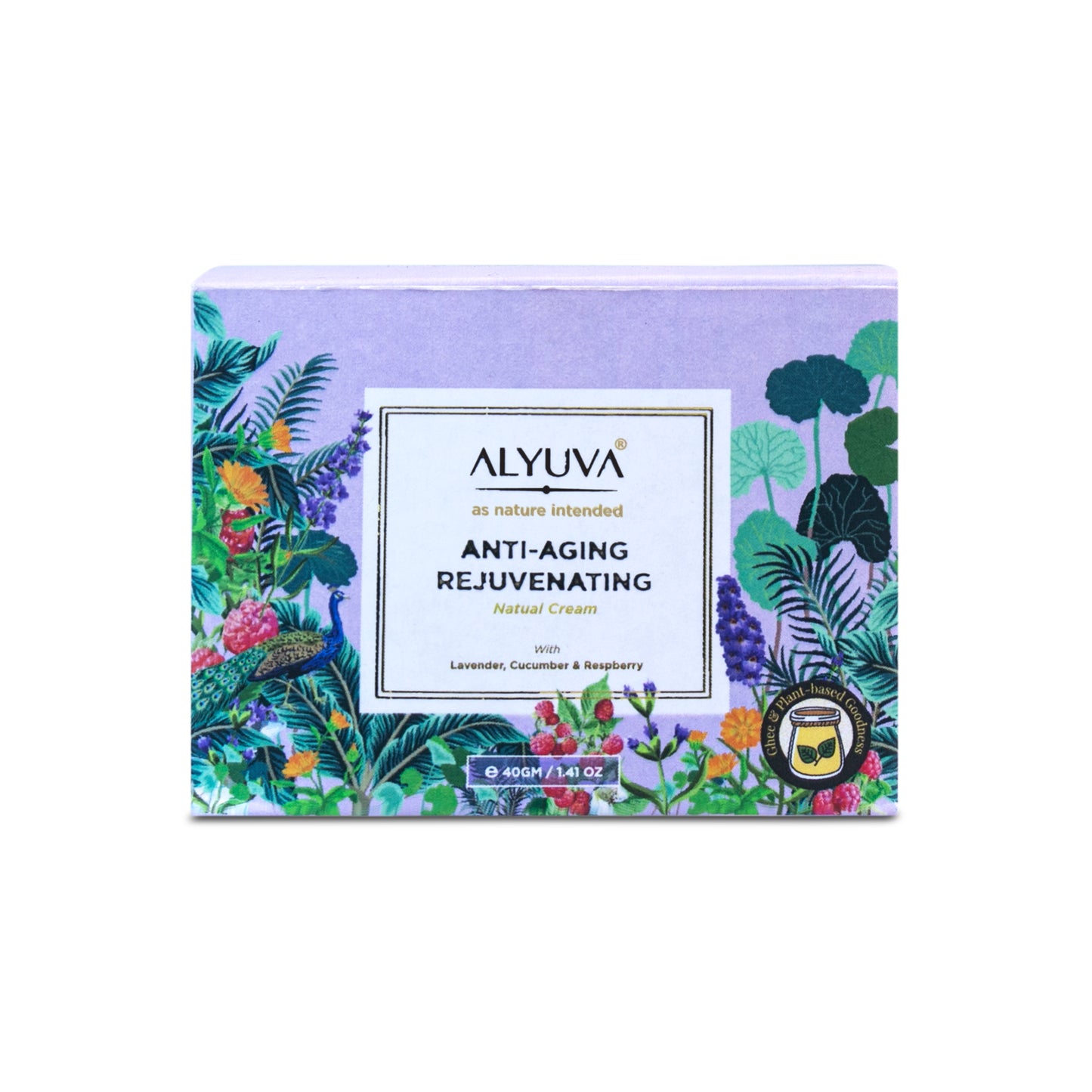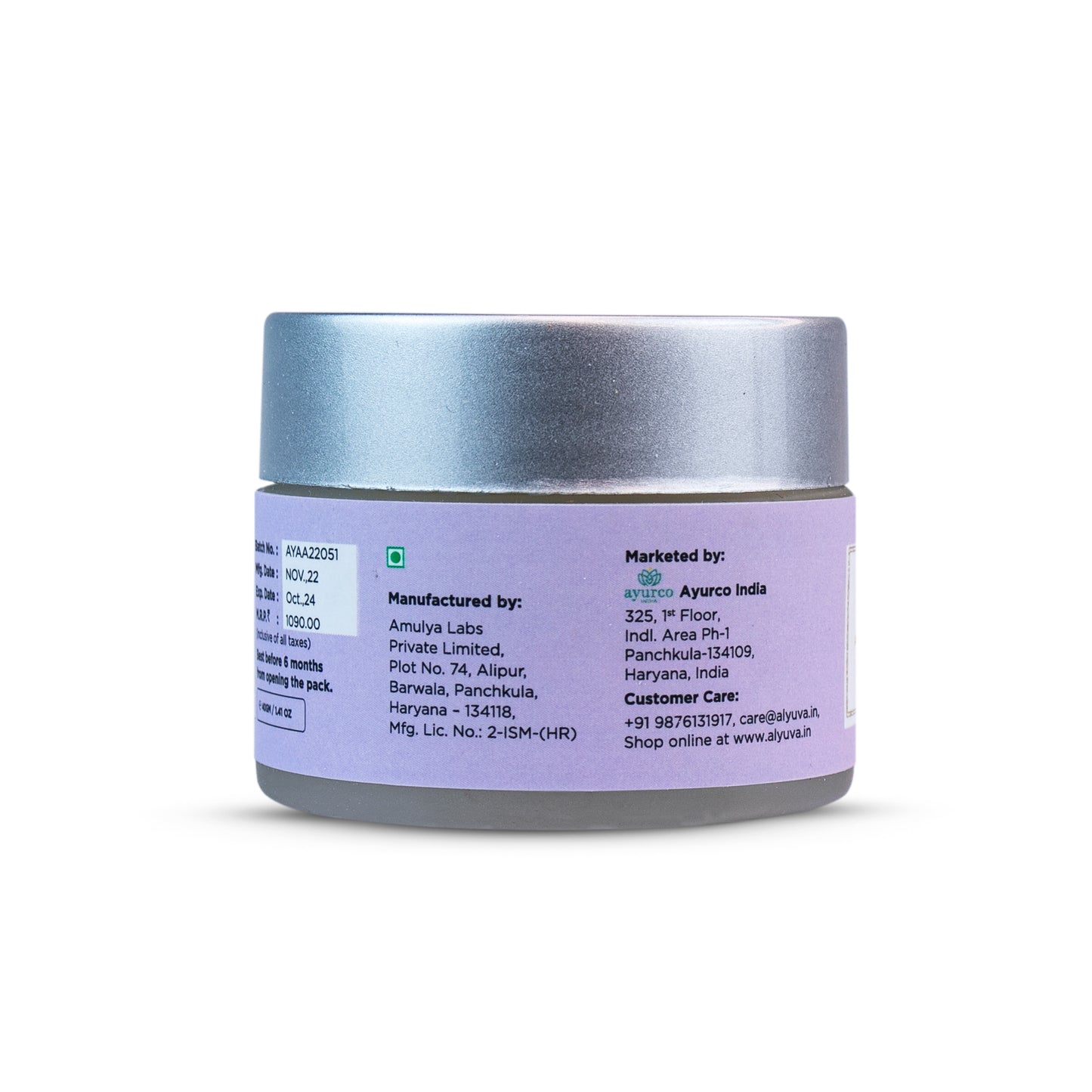 Legal Disclaimer

The actual benefits may vary from user to user depending on the skin type. Use regularly to get best results. We shall not be responsible for any damage caused to your skin with use of this product as different types of skin react differently to the ingredients. Take every precaution before using the product.
Safety Warning

For external use only. Do not use on injured skin. Conduct a skin potency test before use. Discontinue use if signs of irritation develop.
In the realm of natural beauty and holistic wellness, ancient Ayurvedic traditions offer us a treasure trove of remedies that have stood the test of time. One such remarkable elixir...

In the realm of natural beauty and holistic wellness, ancient Ayurvedic traditions offer us a treasure trove of remedies that have stood the test of time. One such remarkable elixir...