Strawberry Lip Balm, Natural & Herbal Ingredients, Ghee based, Unisex for all ages, 7gm, PACK OF 2
Strawberry Lip Balm, Natural & Herbal Ingredients, Ghee based, Unisex for all ages, 7gm, PACK OF 2
Regular price
Rs. 580.00
Sale price
Rs. 390.00
Unit price
per
Sale
Sold out
Alyuva's Strawberry Lip Balm is an emollient, humectant and occlusive moisturizer. Occlusive moisturizers fill the cracks in dry skin and make a film that prevents water loss. Emollient moisturizers soften the skin and help to keep it supple. Humectants create a barrier on the skin surface to prevent water loss; instead, they bond with water molecules and draw water to the skin. Thus, Alyuva lip balms are both moisturizing and hydrating. This lip balm is laced with Strawberry Essential oil to keep your lips coated with fruity fragrance. 
Ingredients:
Shata Dhauta Ghrita


Traditionally, Ghee has been used as a remedy to get rid of chapped lips. Using 100% Times Washed Ghee on your lips every morning is good enough to lock the moisture. Ghee when applied at night can make your lips get soft and smooth. It also helps you in lightening dark lips.

Cocoa Butter


Cocoa butter is a rich source of antioxidants and vitamin A, C and E.It is an effective ingredient when dealing with chapped or cracked skin. It helps in retaining moisture and alleviating skin problems.

Coconut Oil


Coconut oil is considered as an emollient with analgesic properties. It locks in the moisture and provides a barrier when applied which makes it perfect for chapped lips.

Strawberry Extract


Strawberries are a rich source of vitamin C, it helps in puckering and plumping lips. It is a great exfoliant and has anti-inflammatory properties which help in giving your lips a pink flush.



Salient Features:
GHEE BASED - Based on Shata Dhauta Ghrita (100 times washed cow ghee), which has been traditionally used to keep the lips soft and smooth.
KEEPS LIPS SOFT & SMOOTH - Supplemented with Coconut Oil, Shea Butter, Beeswax and Vitamin E to keep the lips crack free.
100% NATURAL - Natural flavours and colours are used to keep your lips fresh and fragrant throughout the day.
Chemical free, Paraben Free, Alcohol Free, Natural ingredients.
Key Benefits:
Helps seal the moisture in the lips, and maintain it while the blend repairs your lips. And keep them hydrated throughout the day
Helps soothe inflamed dry lips, adds hydration and repairs cracked lips with added sheen
Comfortable, non-sticky and ultra-hydrating balm
Shata Dhauta Ghrita penetrates through the 7 layers of your lips' skin and heals it from deep within.
How To Use:
Take a small quantity of the product on your finger.
Gently apply it on the lips.
Apply it regularly for supple and smoother lips.
Apply it before you put on lipstick or lip gloss, for best results.
Precautions:
For external use only.
Perform allergy test before application.
Stop use if signs of irritation appear.
FAQs:
How does Alyuva Lip Balm work to prevent chapped lips?
Alyuva lip balm forms a barrier to prevent moisture loss and protects your lips from drying (which usually causes chapping). It also repairs the lips from deep within and softens the skin to restore suppleness to the lips.
Is it necessary to apply Alyuva Lip Balm indoors?
It is essential to protect your lips even indoors as the weather may affect you even when you are inside (air conditioners remove airborne moisture).
Can Alyuva Lip Balm be used by men?
Yes, Alyuva's Strawberry Flavour Lip Balm is suitable for both men and women
Why do I need special care for my lips?
The skin on your lips is extremely thin and sensitive. Your lips only have a thin layer to protect themselves from external irritations. Alyuva's Lip Balms are emollient, humectant and occlusive moisturizers and keep your lips moisturized and hydrated.
Share
View full details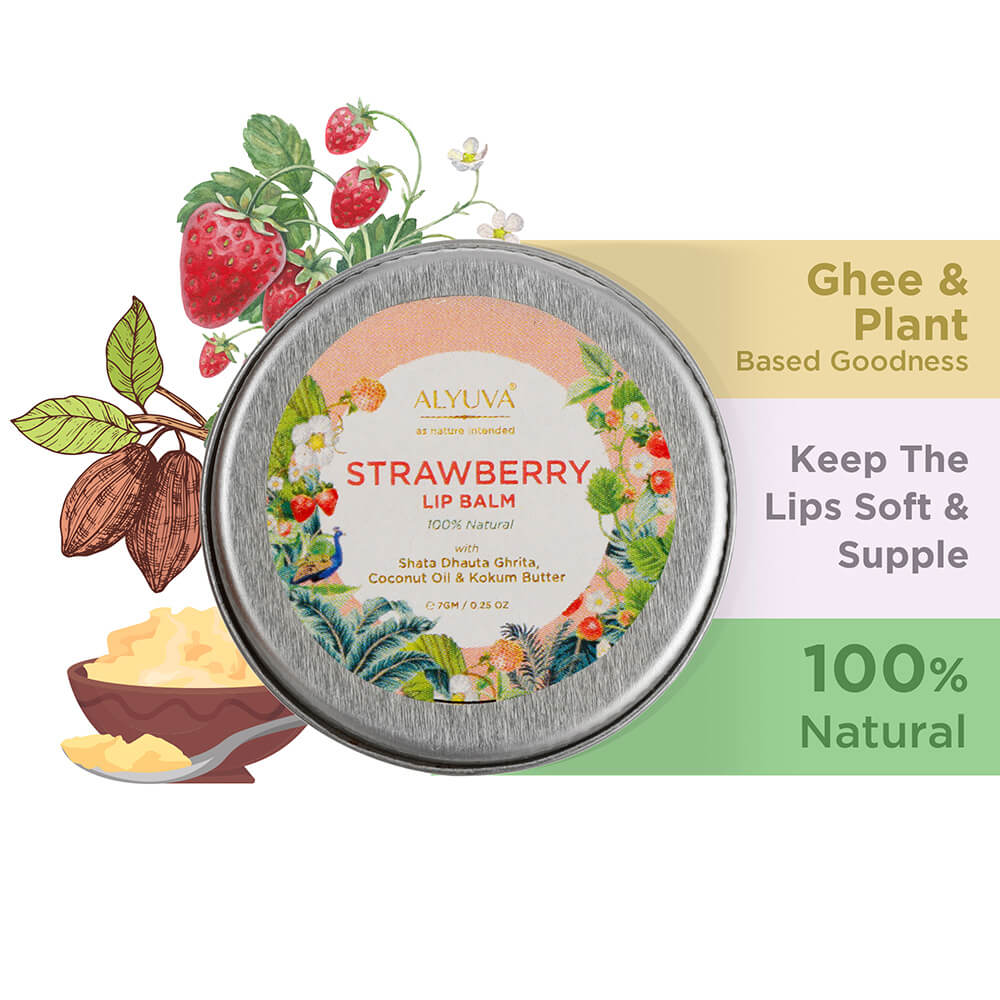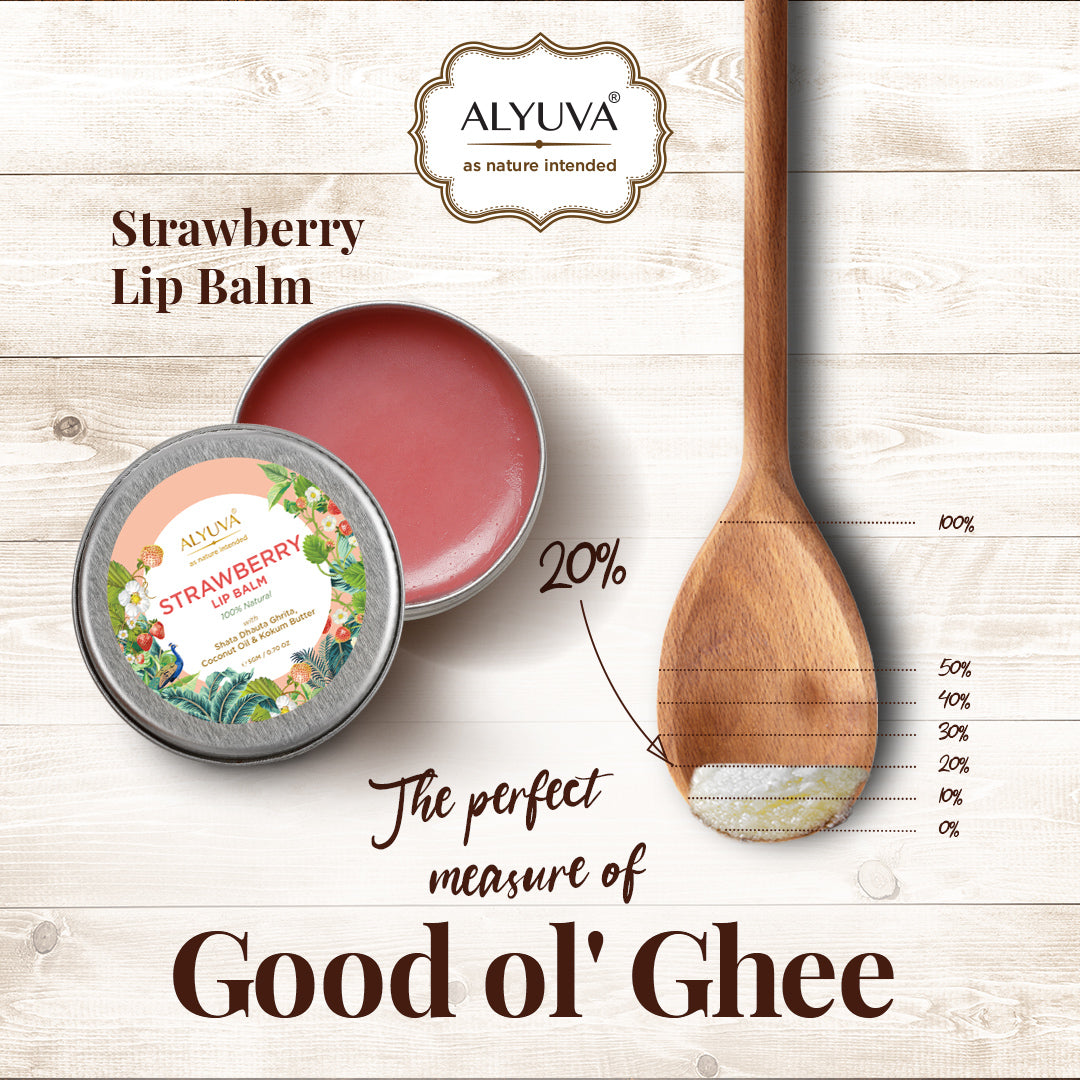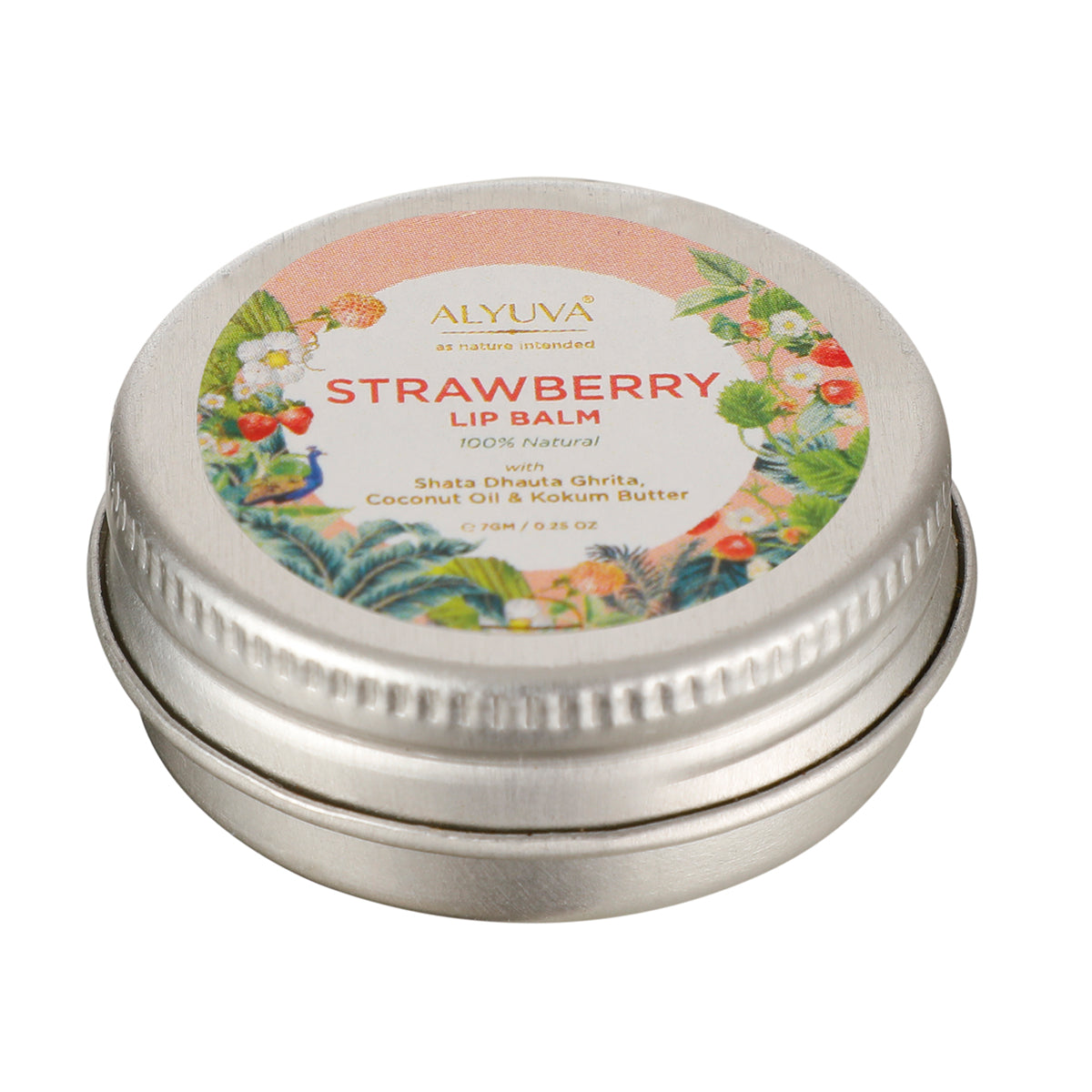 Legal Disclaimer

The actual benefits may vary from user to user depending on the skin type. Use regularly to get best results. We shall not be responsible for any damage caused to your skin with use of this product as different types of skin react differently to the ingredients. Take every precaution before using the product.
Safety Warning

For external use only. Do not use on injured skin. Conduct a skin potency test before use. Discontinue use if signs of irritation develop.
In the realm of natural beauty and holistic wellness, ancient Ayurvedic traditions offer us a treasure trove of remedies that have stood the test of time. One such remarkable elixir...

In the realm of natural beauty and holistic wellness, ancient Ayurvedic traditions offer us a treasure trove of remedies that have stood the test of time. One such remarkable elixir...